Shopping Basket
Your Basket is Empty
There was an error with PayPal
Click here to try again
Thank you for your business!
You should receive an order confirmation from Paypal shortly.
Exit Shopping Basket
Herbs, Edible Blossoms, Wild Foods, Heirloom Vegetables
Time to get serious about this blogging thing!
Stop by, we'll be typing up new stories soon :-)

Whew! Its a balmy 31 degrees right now. This is spectacular in comparison to the -45 frigid air we experienced last week, and we actually enjoyed some time stomping in the snow this afternoon. In an attempt to be more space-efficient, we even measured the garden plots so we can make accurate (and hopeful) plans as to how much of this and that to plant. Heck, we might even stick to the plans!
I was looking through photos from last year and smiled when I saw this...
Here in Eastern Iowa, the Duchman's Breeches (above) are a great indicator that it is morel mushroom time. Its a spring epemeral flower that is so fragile and beautiful -- I get to excited every time I see one that I have to stop and just look at the natural, intricate artistry of each little pair of pants and fern-like leaf. Such a remider to stop and be mindful of the beauty around us all the time, and be thankful to our Creator for the little things, the things that are real.
The spring epemerals are also a visible reminder as to how fleeting this life on Earth is. One of the places I enjoyed finding the dutchman's breeches, morels, spring beauty, wild geranium and other harbingers of spring was Camp Hitaga in Eastern Iowa. Each spring for the past several years we have had the honor and thrill of hiking her paths and sleeping under the wide expanse of starry skies along the Wapsipinicon River. These past year, however, the difficult and painful decision to sell that precious piece of history and magic presented itself. The property was sold and goodbyes to such experiences were necessary. We will cherish the memories we made there for our lifetime.
It was at Camp Hitaga that I met Martha Lawrence. A spitfire and kind soul, always full of light and kind (and quite honest) words for everyone. Shortly after Christmas that brilliant light faded from us, and Martha left to be free of all pain and sorrow. Yesterday we said goodbye to her.
Remember -- life is short, precious, fragile and fleeting. Cherish it and those you've been blessed enough to cross paths with. We're thankful to be part of your lives in any small way.

Have a precious day.

Ahhhhh, 2014 was a rough year here in Iowa! Cold, long spring; early cold winter. Not much of a growing season I'm afraid. Still, we managed to eke out some marvelous produce and shared our time with a few fantastic helpers. Thanks to Jess, Brooke and Jacob, Michael, and Andrew, our gardens and farm grew with fewer weeds and more love. We just *love* our helpers!
To usher in 2015 we've decided to ignore the once again frigid cold and pore over a multitude of seed and plant catalogs (I think we have around 50 if you would like to browse a few and pass them on!) and make some plans for improvements and space saving techniques, while growing all our favorite veggies at home and lovely edible blossoms and aromatic herbs on the farm. We're getting our plans made and setting up the grow lights and heat mats in the basement. Below is a photo of some of the first things we'll be planting -- pea shoots! Yum.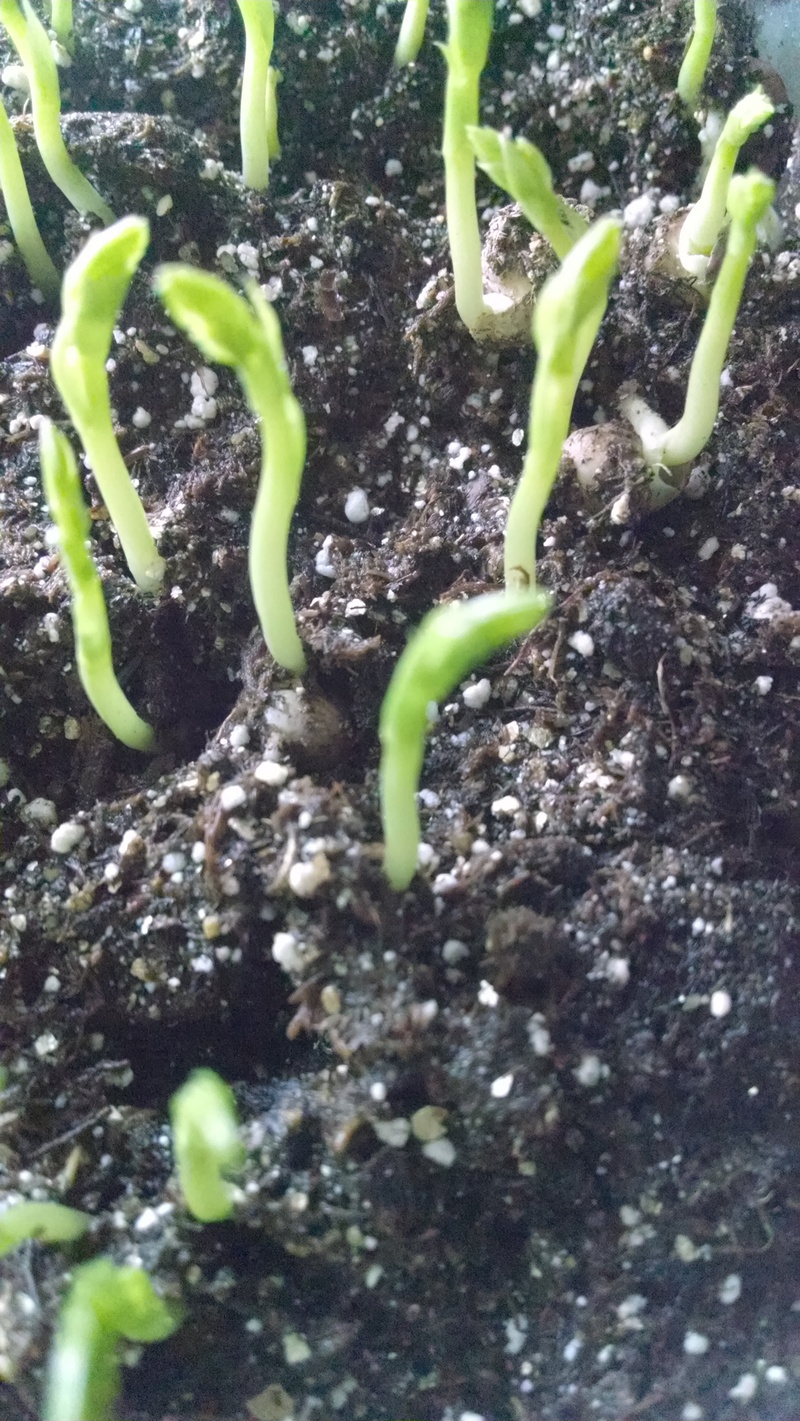 We've been fortunate enough to scrape together the funds for a couple smallish greenhouses, so we can get into the gardens earlier and grow later than in the past. After 2014 it seemed the only logical thing to do. Crazy Weather! We were remembering 2012 -- our last harvest and delivery was on December 4th!

So here we sit -- mugs of cocoa, home made socks, seed catalogs, an extra pound or more around our middles, big dreams, great plans -- bucking the cold and waiting for spring again.
Thanks to everyone who has supported our little hobby/business the past few years as we try to get on our feet again. It is such a rewarding task to put seed to soil, nurture it, watch it grow and enjoy the fruits of the harvest.
The miracle of all that never grows old, and we are thankful.
Stay warm!

Wouldya lookit that! The thermometer doesn't even GO that low! Here in Iowa we are hunkered down with space heaters that are helping our furnace keep up with the arctic blasts & windchills, plastic and blankets over doors and windows, and frozen pipes are sure keeping us hopping. I believe someone said that even our HIGH temperatures are record LOW temps for this time of year.
But I got a seed catalog in the mail on Saturday. That's two now, and they're my two favorites.  I have a couple of large Rubbermaid containers full of seed. And soil -- compost, organic potting mix, organic seed starting mix -- ready to go into containers to start a little indoor garden. Spring is 70 days away, my friends, but I need some green NOW! I have sprouted chia, radish, alfalfa, mung bean, lentil and some mix a friend gave me. I potted up the mint starts that have been on the windowsill in pretty jars and bottles since fall. I even started picking through more of those basil seed heads to see just how much I really did "save" this year.
I've also been perusing helpers on www.helpx.net, WWOOF USA, and a new site I found at www.workaway.info and really enjoying the wonderfully passionate, diverse and adventuresome travelers I am reading about and hoping to meet.

So I take a deep breath (inside, not outside! brrr), get out the seeds and get ready for inventory. Then comes the sketches again, the ones I may or may not adhere to come spring. Hot cocoa? Sounds good. Old movies? Sure. Clean the old box of a house? Meh -- if I gotta. Maybe tomorrow... because I am NOT going outside til FRIDAY!
See you soon!
"Destiny"

 We all know the weather outside is frightful, right? I often wonder how to make it through the winter months without losing my mind. My green thumb starts itching, my seed catalogs get dog-eared pages, mountains of envelopes full of seeds from all corners of the country pile up everywhere, as I sit none too patiently staring at the silver-white landscape outside my windows.
 There is a tattered sketch pad buried in the pile of seeds and catalogs where my dreams come to life in scribbles and lines and arrows and question marks. Sometimes ideas come in the wee hours of the morning when I am pulling blankets up over my head arguing with the sun who seems to rise too soon in winter and not soon enough the rest of the year. But I write down those thoughts in the half-light and decipher them later over green tea and Iowa honey.
Its inevitible that those sketches and plans will lose much of their meaning once the earth begins to thaw. I won't have the patience then to wait for nice neat rows, all well marked, and lettuce will be planted where peas were intended, pole beans dug in with no trellises in place (yes, we always get to that later), and the potatoes will end up planted in a barrel again instead of the new sheet-mulched beds. And we'll make it work, it will be beautiful, and we will LOVE it.
Last night I dreamed of freshly tilled earth. There is nothing like that smell. Although only part of our gardens actually get tilled, that smell is the indicator to me that it has all begun again. The glorious magic of seed in soil, watered and warmed in the sun until it sprouts, leaves reaching toward heaven in anticipation of the miracle of home grown food.
Until that time, I'll keep dreaming here... in the snow, in Iowa, in a chair with a cup of steaming tea, staring out that old drafty window, as I nibble on that taste of summer in peaches from Mason jars.

| | |
| --- | --- |
| Posted by Kimberli on 15 April, 2012 at 19:10 | |
Spring made an early entrance into Destiny's Garden this year, and we are thrilled! The chives are ready to be delivered, chocolate mint is almost ready for first harvest and our first new raised bed (for peas & salad greens) is nearly complete. Many tiny plants are reaching upward to the sun and others are still in their safe little flats waiting to be planted. Now it's time to start marketing our wares to local eateries -- places who want nothing but the best for their patrons: Organically grown, hand-harvested produce that speaks for itself. What more could any restaurant or catering business ask for? 

We are getting ready to start our seedlings! On our list so far this year are filet beans, oceans of basil, fernleaf dill, radicchio, swiss chard, heirloom tomatoes, scarlet runner beans, fresh black beans (oh, we're bean-y this year!), Genovese squash, edible blossoms galore (including squash blossoms), a little round, mild & sweet Crystal Apple cucumber -- even some loofah just for fun! That's just the beginning, and as always -- please contact us if there is something you'd like us to grow just for you. We are an adventurous lot and love to try new things. 

There is a lot in the works for Destiny's Garden in 2012. Raised beds for the heirloom veggies, more garden space, new raspberry canes (red and black), herbal infused vinegars, herb jams & jellies, a few little "tea parties" to share garden stories & teach about the many uses of herbs and workshops on making herbal vinegars or backyard gardens for fun & profit -- urban farming at its finest!

/